Anaconda Custom Pool Volleyball Net System
Pool Volleyball Net Systems
Do you want to give your friends and family more to do around the pool during those long summer days? Starting a swimming pool volleyball game can turn a lazy afternoon into a fun afternoon of play. You need to order your new volleyball net for the pool from Cobra Net Systems to make that a reality!
Our team specializes in custom pool volleyball net systems for residential and commercial customers. We are the only company producing high-quality pool volleyball net systems and accessories with a lifetime guarantee.
As a top producer of the best volleyball net systems today, Cobra Net Systems are durable and constructed with safety in mind; one person can quickly install them as there are no knots, ties, or heavy bases for the poles. We have a patented system and more than 25 years of creating custom volleyball nets for pools of all shapes and sizes. If you're searching for the best pool or backyard volleyball nets online, shop with Cobra Net Systems.
Our team leads the industry for pool volleyball net systems thanks to the high quality of the pole material. We design each custom pool volleyball net to suit the dimensions and specifications of our customer's setups. You can find our above and inground swimming pool volleyball nets all over the country in hotels, resorts, fitness centers, schools, and more.
No two pools are the same. Different factors affect how much space you have for the pool, which influences how wide your net needs to be. We take the unique measurements of your setup and build you a new custom water volleyball net for your pool.
With our patented technology, Cobra Net Systems creates above and inground pool volleyball net systems. These systems are the last volleyball nets you should ever need to purchase. Our products have a lifetime guarantee, from pool volleyball to portable beach tennis. If you are shopping for the best portable pool volleyball net, you can't do better than ours!
Order Volleyball Net Sets for Pools Online
When you order a water volleyball net system for your commercial or residential pool, you can rely on our 30-day money-back guarantee if you're unsatisfied with its performance and design. Our pool volleyball nets can be set up in three minutes or less. With no strings, knots, or ties, our net systems are convenient, durable, and designed for lasting play.
Portable Pool Volleyball Sets
When you purchase your pool volleyball set online from Cobra Net Systems, you will have everything needed to quickly set up your net system. All metal components are made with aluminum to guard against rust. Each portable pool volleyball net comes with its custom net, so it's sure to fit your space to perfection.
Water Volleyball Nets
Ramp up the fun for your pool time when you order a volleyball net from Cobra Net Systems. We know that our nets have to stand up to hard play — and they do! Our pool volleyball net systems are ideal for all settings with indestructible poles and patented net tightening systems. Water, sun, heat, rough play — our nets can handle it all.
Get to know Cobra Net Systems and our patented pool volleyball net systems. Our volleyball nets won't let you down whether your pool is inside or outside! We feature an online video that can demonstrate how to quickly set up your volleyball net for use. Be sure to browse our other high-quality net systems available for more information.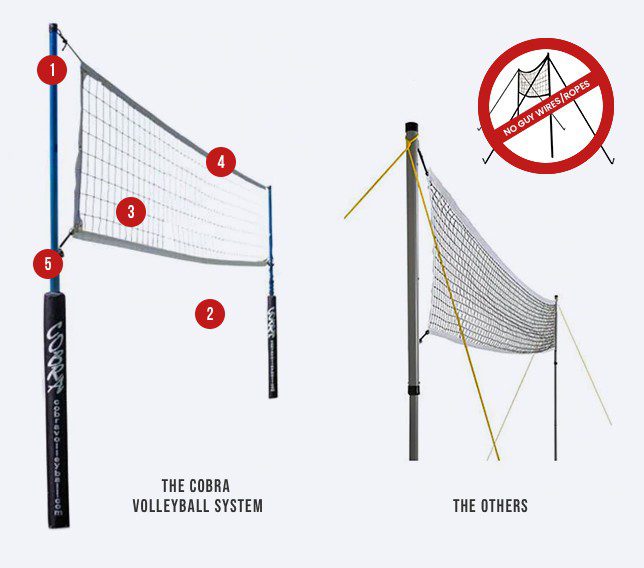 Designed to set up quickly, and last a lifetime.
No Guy Wires/Ropes
Fast One Person Set Up
Superior Net Play
Stays Tight All Game
Versatile – Play 5 Different Games