Cobra Indoor Volleyball Net System – Existing Sleeves
Quick Overview
Designed for floors with existing sleeves
Indoor/outdoor system includes all components for outdoor play on grass or sand
3-in-1 game system includes heights for beach tennis & badminton
Fast, easy, one-person set up
Lifetime warranty and 30-day money-back guarantee
Cobra indoor volleyball net system – existing sleeve
Safe & Durable Indoor Volleyball Net for Existing Sleeves
Lightweight but durable, the Cobra Indoor Volleyball System is built to last a lifetime of aggressive play. It's so easy to set up, students, teams and youth groups can install the systems on their own in a matter of minutes! The Cobra Indoor Volleyball System comes with 3 official volleyball height settings: Men's (8′), women's (7′ 4″) and junior's (7′).
This Indoor Volleyball System also comes with adapter weldments for existing sleeves, allowing you to seamlessly add Cobra to your gym without any modifications. Sleeve size is based on the inside diameter of existing sleeves: 2″, 2.5″, 3″, 3.5″ or 4″.
1 System, 3 Sports
The Cobra Indoor Volleyball System offers unparalleled versatility, quickly adjusting to regulation heights for volleyball, badminton and beach tennis. Adjustment takes a matter of seconds – just slip out the pin, slide up the poles and secure. Beach/grass tennis and badminton height settings all come standard with the system. We can add pickle ball/regular tennis height setting as well. No charge; just ask us to add it to your system.
Take Your Game Outside, Too!
A real 2-for-1 bargain, the Cobra Indoor Volleyball Net comes with everything you need for outdoor play on any surface. Our patented Flex Pole Technology works everywhere, from beach tournaments to quick games out in the playing field.
Custom Orders Available
We specialize in helping customers find the perfect solution to your indoor/outdoor volleyball needs. Our nets can be customized for unique floor configurations, multi-court systems and shared center pole courts. Bring us your specs – and your toughest challenges. We haven't been stumped yet! Contact Us for a Custom Order
What's Included:
2 Adjustable High-Strength Poles (ocean blue)
Adapter Weldements
Antennas
Pole Pads & Pole Covers
Regulation Net
Stretch Cords
Protector Cap (for driving stakes outdoors)
Washers
Ground Anchors
Boundary Lines
Heavy Duty Carrying Bag
Instruction Sheet
Cobra Indoor Volleyball System

Set Up Instructions
Insert the adapter weldments into your existing sleeves.
Slide the poles overtop of both stakes. You're almost in business!
Adjust the net to your desired height, then tighten with a quick tug on the rope through the pull clamp.
You're done – time to get in the game!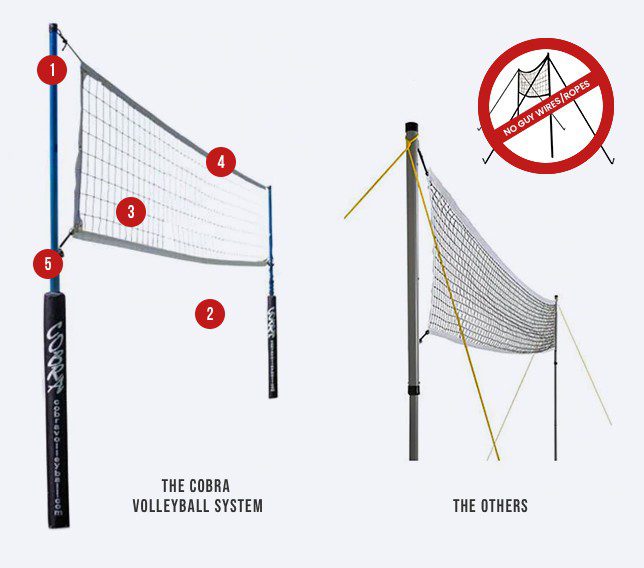 Designed to set up quickly, and last a lifetime.
No Guy Wires/Ropes
Fast One Person Set Up
Superior Net Play
Stays Tight All Game
Versatile – Play 5 Different Games