The birth of the Cobra
Cobra Sports International, Inc. was originally established in 1992 in Santa Rosa, CA -an area noted for devoted volleyball players.
The Cobra Volleyball System was designed by an avid volleyball player and tournament director for 2 main purposes: safety and ease of set up. The Cobra was patented in 1993 (Patent no. 5176344) and since then our company has provided the highest quality tournament rated portable volleyball system for both indoor and outdoor competition at any level. Regardless of the skill of the players, from beginners to the highly competitive level of tournament play (grass or beach), the Cobra stands alone for many reasons including:
Quality: Lifetime Warranty
Safety: No guy wires or heavy metal plates/brackets
Set-up: 1 person – less than 5 minutes
Beach: No sand kits required
Moving to the Beach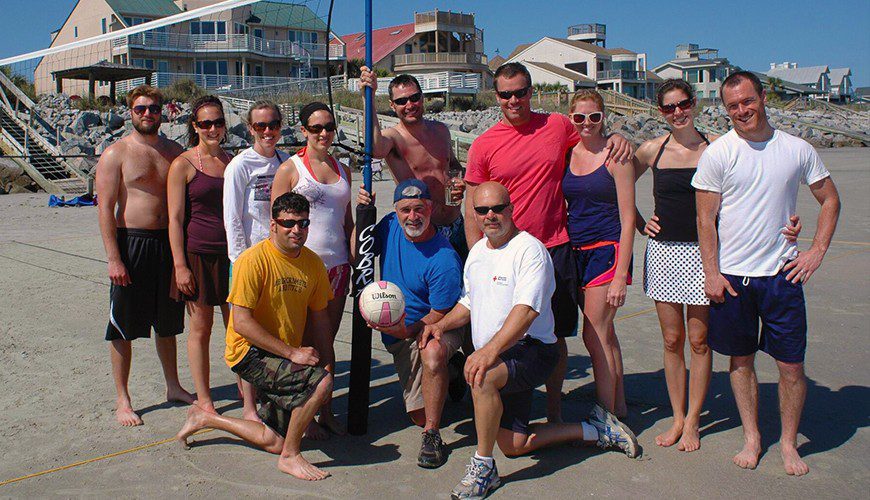 Because of the success of Cobra Sports International, Inc. we sought to broaden our influence in the beach volleyball market by moving our offices to Wellington, Florida in 2000. The Cobra volleyball net system stands alone for beach volleyball play because it is tournament rated and does not require sand kits to set up on any beach. While the Cobra had a presence on the West Coast, particularly in California where AAU (Amateur Athletic Union) had used the Cobra system for their beach volleyball division for years, we knew we needed to market the Cobra system more aggressively on the East Coast. Needless to say, the Cobra was an instant sell for the beach volleyball players on the East coast as well and our growth continued. Now the Cobra is the volleyball system of choice on all beaches!
In 2004 we purchased offices and a warehouse in Mesa, Arizona and expanded our product line. We have continued to grow, and in 2007 we introduced three new products. The first product, the Cobra Beach Tennis System, is available in both racket and paddle versions and offers quick and simple setup without the need for sand kits. The Anaconda, our second product, is a Lifetime Warranty pool volleyball system which is also praised for its simple setup and the ability to install it anywhere around your pool or in your pool! The Viper badminton system features the same patented guy wire-free design and the same Lifetime Warranty that all Cobra systems guarantee. Each product has proven itself a great success and inspired further Cobra Sports innovation. We are also aggressively marketing our Lifetime Warranty custom commercial pool volleyball system (custom to any configuration) to the hospitality industry, targeting major hotels and resorts not only in the USA but also throughout the world. Based on a three-year test of this pool volleyball system at a major resort in Costa Rica on the Pacific Ocean, we feel very confident that this is a market in which we continue to have great success.
Our Commitment
As with any successful company, service has been a key element of our growth and success
We pride ourselves on how we treat our customers whether it's answering questions during a phone call, taking calls in the off-hours and weekends should there be a tech support issue or sending information immediately regarding our products and references. If ever there is a component failure we send the replacement part same day, although it is a rare event.
Our normal shipping is same day if we receive your order by 4PM Arizona time (subject to individual item specifications). Due to occasional very high volume levels, shipping times may be longer. Please check the shopping cart for details or feel free to call us for current shipping times. We also offer overnight or expedited shipping. For shipping outside the Continental U.S., we research the least expensive shipping option.Â
Please call our office toll free at (866) 510-0673 or (480) 832-2100 (outside the toll free area) should you have questions or require us to configure and price a custom volleyball system for any of the above applications. We look forward to serving your needs with the highest quality products and the best guarantees available.