Viper Portable Volleyball Net System
Quick Overview
Fast one person setup and safety.

Don't let injuries like this happen to you

.
Set up on sand, grass, or at the beach without guy-wires, plates & spikes or sand kits
2 volleyball height settings – men's and women's
Durable (the only Lifetime Warranty in the industry) yet light weight construction (29 lbs)
Manufacturer Direct Product comes with Money Back Guarantee.
Custom size nets available & no wires – backyard friendly
Portable, Light-Weight & Tough as Nails:
The Viper Portable Volleyball Net System is a lighter weight system (29 lbs.) than the Cobra (33 lbs.) but just as durable (Lifetime Warranty guaranteed). Designed for more casual play, the Viper has 2 volleyball height settings – men's (8 ft. and women's 7 ft. 4 in.).
All Cobra products are built with our Patented Ground Anchor Stake and Flex Pole Technology that keeps the net tight the whole game. The net will never come loose or sag and you'll never get a dead ball in the net that just falls to the ground. You can set up our portable volleyball net system on any outdoor playing surface (grass, sand or soil) without guy-wires or sand kits. Without guy wires, the Viper sets up in a smaller space so you can take full advantage of the entire playing area.
Viper Volleyball Net System:
What's Included in the Viper System:
1 Top Pole with eyebolt & 1 Top pole with rope clamp
2 ea. Bottom Poles, Pole Pads & Pole Covers
32′ Net (Custom size nets available for smaller spaces), 4 Stretch Cords
2 ea. 26″ Ground Anchor Stakes, 1 Protector cap, 2 Washers to put over ground stakes
30′ x 60′ Boundary Line & Winder with grass & sand stakes. Custom boundary line no charge on request
Heavy Duty Carrybag, Instruction Sheet and CD
Setup Instructions:
The Viper Volleyball Net System sets up easily by just one person.
Find a safe playing area (avoid sprinkler heads!). Establish court area with boundary line.
Assemble top and bottom poles and attach net with spring hook to the eyebolt on Pole #1. Slide other end of net through the rope clamp on Pole #2. Attach 1 bungee cord to each corner of net. Position poles at boundary line center mark 1 foot out on each side.
Drive the ground anchor stake (using the protector cap) in the soil or sand with a 6 or 8 lb. sledge hammer until it is rock solid. Place washer over stake, and put Pole #1 over stake. Position pole #2 and repeat.
Pull the top line of the net through the rope clamp to flex the poles.
To tighten the net, hook one end of the stretch cords on the corner of the net and go around the pole 1 or 2 times and hook the other end on the stretch cord. Slide the top stretch cords up even with the eyebolts for correct height. Slide bottom stretch cords down to prevent "cupping".
To remove stakes, use the sledge hammer and tap around the stakes at ground level, not at the top.
For more aggressive, competitive play and versatility of playing additional games, we recommend the Cobra Outdoor Volleyball System.
For a detailed comparison of the Cobra and the Viper see our FAQ's page.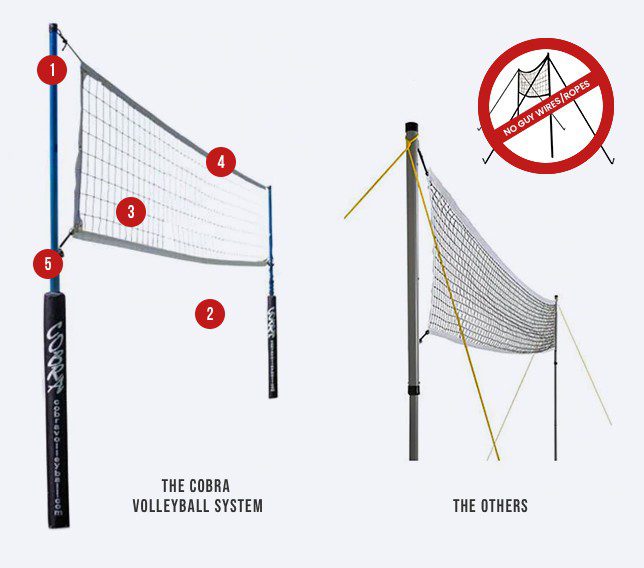 Designed to set up quickly, and last a lifetime.
No Guy Wires/Ropes
Fast One Person Set Up
Superior Net Play
Stays Tight All Game
Versatile – Play 5 Different Games