Cobra Outdoor Volleyball Net System
What sets Cobra apart:
World's only self-supporting outdoor volleyball net system
Industry's only Lifetime Warranty outdoor net systems
Superior net play – stays tight all game
Fast one person set up & safety – no hazardous wires & peg. Don't let injuries like this happen to you.
Most versatile net system – play 5 games on 1 system
The Cobra Volleyball Nets come with 3 official volleyball height settings: Men's (8′), Women's (7′ 4″) and Junior's (7′) plus height settings for beach/lawn tennis (5′ 10″) and badminton (5′). Pickleball/tennis height can be added at no charge. Just ask us!
Custom Size Nets Available. Installation on artificial turf, sport courts, and more. Call us to customize!
2-for-1 system. Components may be purchased to convert your outdoor system for indoor use as well.
Play on the beach, in the park or your backyard:
The Cobra Outdoor Volleyball Net System is tournament-rated and designed for anyone looking for more competitive, aggressive play on sand or grass. Using specially engineered ground stakes, our patented Flex Pole Technology keeps your net standing firm without any hazardous wires, so you can take advantage of the full playing area. The net will never come loose or sag for as long as you want to play; you'll never need to pause your game and adjust. Alloy-constructed poles bend but never break, standing sturdy and strong no matter how hard you play. This portable outdoor  net system comes with a heavy-duty carrying bag for easy transport and storage. Fully packed, the system weighs in at just 33 pounds. Bring it anywhere you want to play!
Cobra Volleyball Equipment Setup:

What's Included:
Heavy Duty Carrying Bag
2 Adjustable High-Strength Poles
2 Pole Pads & Pole Covers
Regulation 32 Ft. Net (Custom Size Nets Available for Smaller Spaces – i.e. Backyard) Stretch Cords
Guide Plate & Protector Cap for Driving Stakes in Grass or Sand
30′ x 60′ Yellow Twisted Polypropylene Rope Boundary Line & Winder, Grass and Sand Pins/Stakes.
Washers to put over Ground Anchor Stakes
Ground Anchor Stakes (34″ Length)
Instruction Sheet
The Cobra Outdoor Volleyball Net System is the only one of its kind in the world. It's completely self-supporting and doesn't need any pesky wires or pegs to stay tight throughout the game! This versatile net can be used both indoors and outdoors and is extremely easy to set up by just one person.
Our residential volleyball net system comes in a variety of different height settings, adjustable for men, women, and juniors, as well as different games such as badminton and beach/lawn tennis. You can also call us to get a customized net! Buy a portable net for your volleyball sessions today.
For more casual play, check out the Viper Volleyball System.
For a detailed comparison of the Cobra and the Viper see our FAQ's page.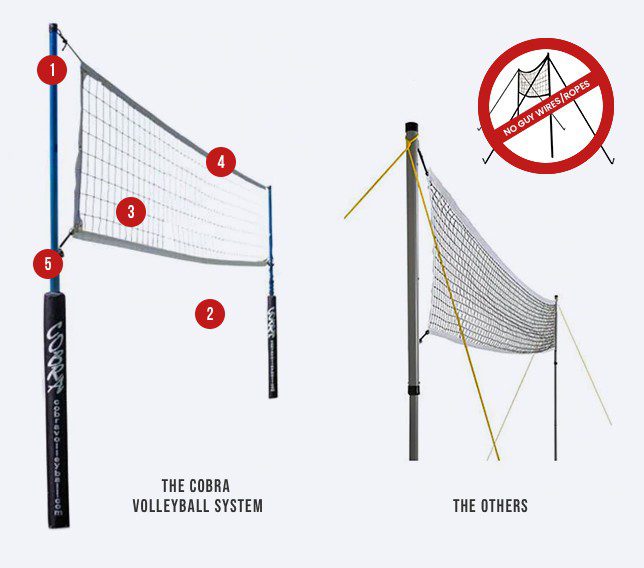 Designed to set up quickly, and last a lifetime.
No Guy Wires/Ropes
Fast One Person Set Up
Superior Net Play
Stays Tight All Game
Versatile – Play 5 Different Games