Cobra Indoor Volleyball Net System – Floating Floors
Quick Overview
Designed for floating floors and surfaces not directly over concrete
Includes all components for outdoor play (asphalt, grass, beach and sand)
Multi-use net with adjustable heights for beach tennis & badminton
Fast and easy to set up
Lifetime warranty and 30-day money-back guarantee
Safe & Versatile Indoor Volleyball Net System for Floating Floors
The Cobra Indoor Volleyball Net System is lightweight, yet durable, high quality yet affordable. Cobra systems are designed to be so easy and safe to set up, students, youth groups and teams can get them set up in a matter of minutes. Perfect for practice and league groups, the system comes with 3 official volleyball height settings: Men's (8′), women's (7′ 4″) and junior's (7′). It also comes with a heavy-duty carrying case for safe and easy transport and storage.
1 System, 3 Sports
The Cobra Indoor Volleyball Net System goes further than the competition, offering adjustable height settings for volleyball, beach tennis and badminton. A height setting for regular tennis can be included at no additional charge. Stretch your dollar further and keep things simple with one portable net that's fast and easy to set up.
Inside or Outside, You're All Set!
As part of your order, the Cobra Indoor Volleyball System comes with everything you need to take your game outside to the grass or sand. The patented Flex Pole Technology stands strong on any surface, perfect for a day on the beach or a game at the park or your own backyard. No matter what surface you play on, set up is just as fast and simple, with no dangerous guy-wires or ropes for players to get hurt on.
Custom Orders Available
We specialize in helping customers find perfect, headache-free solutions to bringing the Cobra Indoor Volleyball System to their facility. Our nets can be customized for unique floor configurations, multi-court systems and even shared center pole courts. Bring us your specs – and your toughest challenges. We haven't been stumped yet!
What's Included:
2 Adjustable High-Strength Poles (ocean blue)
Floating Floor Installation Kit
5000 Weldments
Heavy Duty Metal Knobs
Antennas
Pole Pads
Regulation Net
Stretch Cords
Guide Plate & Protector Cap (for driving stakes)
Washers
Ground Anchor Stakes
Boundary Lines
Heavy Duty Carrying Bag
Instruction Sheet & CD
Set Up Instructions
After installing the insert kit place the weldments and use the metal knob to attach to them to the insert kit. Slide the poles over the weldments, attach the stretch cords, pull the top line of the net through the rope clamp, tighten the stretch cords on the poles.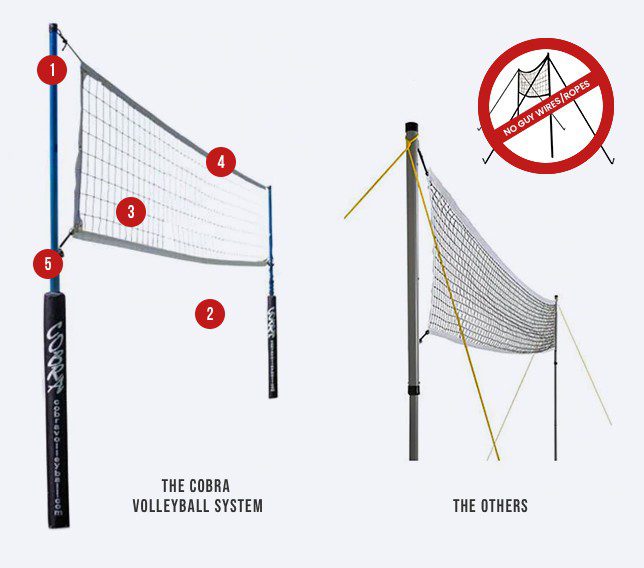 Designed to set up quickly, and last a lifetime.
No Guy Wires/Ropes
Fast One Person Set Up
Superior Net Play
Stays Tight All Game
Versatile – Play 5 Different Games