Viper Beach Tennis Net System – Racquet Version
                                 FOR SHIPPING OUTSIDE THE UNITED STATES:  EMAIL INFO@COBRAVOLLEYBALL.COM FOR SHIPPING COST
Quick Overview
System sets up without guy-wires on sand and grass
Uses 30' x 60' (9.14m x 18.29m) court size and net height of 5'7"
Durable, light weight construction (29 lbs)
Easy, one-person set up in just 5 minutes
Lifetime warranty and 30-day money-back guarantee
Play Wire-Free Beach Tennis Anywhere Outdoors
Designed for casual family play, the Viper Portable Beach Tennis Net System is the only system that doesn't use guy-wires, sand kits or ropes.  Using our patented guy-wire free Flex Pole Technology and ground anchor stakes, you 'll be able play the entire court without fear of injury.  Without guy-wires and no need for burying sand kits, it's a one person set-up that's quick and easy.  With our one-of-a-kind tightening system, your net will never sag, droop or come loose.  You'll enjoy perfect tension and excellent play-ability all game long.
Everything comes in a heavy duty carry bag for easy transport wherever you take your system.
What's Included:
2 Adjustable High-Strength Poles (ocean blue)
Pole Pads & Pole Pad Covers
Regulation Beach Tennis Net
Stretch Cords
6 Sand Stakes with Stretch Cords
6 Grass Pins with Stretch Cords
Washers
Ground Anchor Stakes
1″ Web Boundary Line
Heavy Duty Carrying Bag
Instruction Sheet & CD
Set Up Instructions
Setting up the Viper Portable Beach Tennis Net System can be done by one person in less than 5 minutes.
Find a clear and safe playing area, away from sprinkler heads, relaxing beach goers, sharp rocks or anything else that might cause injury, inconvenience or an awkward moment. Using a 6 lb sledgehammer firmly drive in your first ground stake until it's solidly planted (usually 20 – 22" deep), and slide a washer overtop.
With net attached to both of the Flex Poles, walk the net out to the opposite side of the court and find the ideal position for your second stake. Using the sledge hammer and protector cap, drive the second stake in the soil or sand until solid.
Pull the top line of the net through the rope clamp.
That's it – you're ready! Grab your racquet and get on the court!
Lifetime Warranty & Money-Back Guarantee All Cobra Sports products have a Lifetime Warranty on all hardware – poles, ground anchor stakes, rope clamp, protector cap, guide plate, etc. under normal wear and tear. Soft components – net, boundary lines, pole pads and covers, stretch cords, carrybag have a 2 year warranty, but with minimal care they will last decades.
We are also proud to offer a 30-day money-back guarantee. If you don't love your product (you will), you can return it, no questions asked. Return shipping is not included.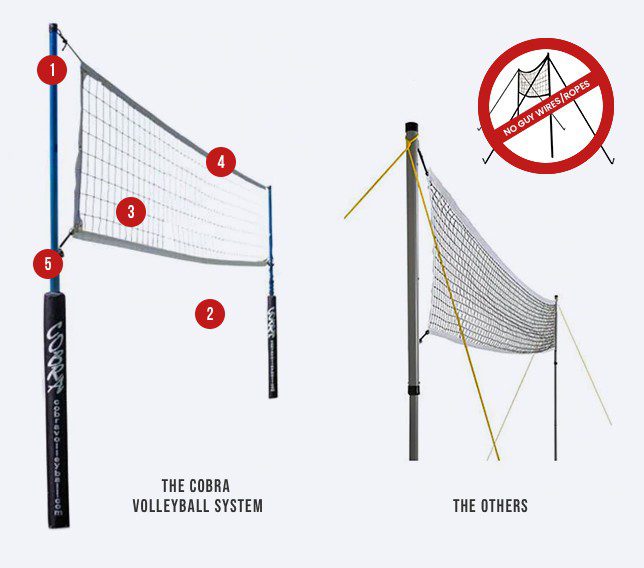 Designed to set up quickly, and last a lifetime.
No Guy Wires/Ropes
Fast One Person Set Up
Superior Net Play
Stays Tight All Game
Versatile – Play 5 Different Games