There's nothing more thrilling than being sprawled out and basking in the sun on a beach and hearing the sound of the waves crashing by. Beach trips are loved by each one of us; whether you're an adult or a child, you've got to love a beach trip.
The United States is home to the most exotic and stunning beaches, which explains why families and friends craze after planning regular beach trips. Beach trips alone are quite exciting, but there's a way you can make it much more fun – exciting games and sports!
No beach trip is complete without a few games and sports. If you're planning your next beach trip, don't miss out on this exciting games and sports checklist we've prepared for your next beach trip!
Beach Limbo
Did someone say beach trip? We heard beach limbo! There's no better game to play the beach than beach limbo. This game has been the life of numerous beach trips and will surely make your crowd go crazy.
All you need to do is find a bar for two people to hold. Meanwhile, each person takes their turn to "limbo" on some music. After each round, lower the bar, and the dancer that can go the lowest wins the game. Next time make sure to challenge your friends and see how low they can go!
Beach Dodge Ball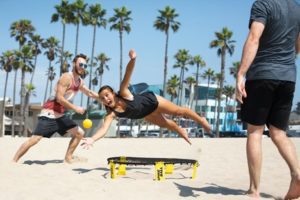 Trust a beach dodge ball game to wear everyone out and give them an exciting beach run. All you need to do is dodge the ball; we actually mean to dodge the ball. You start by tossing the beach ball into the air. Whoever grabs the ball needs to hit another person in the next 3 seconds or pass it on to another player. As soon as a person is hit with the ball, they're out of the game.
The game proceeds until one man remains victorious. Luckily, the game isn't over for the ones that the ball has hit. They can get back into the game by catching the ball and throwing it at a standing player. What makes beach dodge ball exciting is that it's fun for every age group.
Any other player can now grab the ball. Those sitting can grab the ball if it comes near them and throw it at a standing player. If they manage to hit someone, they can stand up and get back into the game.
Ultimate Frisbee
We can't think of a better game at the beach than passing a game of Frisbee. Trust throwing a disc-shapes object around the beach to give an adrenaline rush. Ultimate Frisbee is a blend of football with the touch of Frisbee.
Unlike a Frisbee game, the ultimate Frisbee involves running and diving and a whole lot of catches. This game is perfect for your family and friends. You can always take the game up a notch by taking the party to the water!
Squirt Ball Race
This game needs a bit of planning, but it's worth it. All you need to do is bring your squirt guns to your beach trip. Start by marking a start and finish line. Place the beach balls at the start of the line, and each player needs to spray these balls and move them forward towards the finish line.
Every time the guns are empty, the players need to refill them.  The player whose ball reaches the finish line first wins the game.
Beach Volley Ball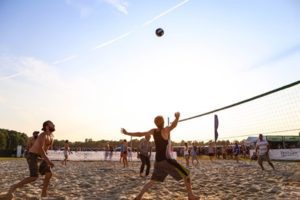 Beach volleyball never gets old and is one of the most famous and popular sports at the beach. Almost all beaches tend to have volleyball nets ready to be smashed at. Irrespective of the heat, everyone loves a volleyball match on a bright sunny day beside the striking waves.
Some beaches don't have volleyball nets set up, but you can always bring your nets to the beach.
Every beach game and sport have their fun, but one sport never seems to get off that list –volleyball. There's nothing that spells an exciting beach trip other than a volleyball match.
If you're looking for a volleyball net to carry around on your next beach trip, consider Cobra Net Systems.
At Cobra Net Systems, we offer easily portable and simple setup volleyball net systems at our online store. Moreover, we offer a lifetime guarantee for all our products with a 30-day return policy on them.
We also offer residential volleyball net systems, badminton net systems, commercial volleyball net systems, accessories, and more!
Head over to Cobra Net Systems to shop for professional volleyball nets right away!
Contact us or call us at (877)586-2729 for lifetime guaranteed volleyball nets!
Learn more about our services.