Cobra Indoor Volleyball Net System – Non-Floating Floors
Quick Overview
Designed for use on non-floating floors
Includes everything needed for outdoor play on sand or grass
3-in-1 game system; adjustable heights for volleyball, beach tennis & badminton
Quick single-person set up
Lifetime warranty and 30-day money-back guarantee
Indoor Volleyball Net Installation Kit
Indoor Volleyball Net for Non-Floating Floors
The Cobra Indoor Volleyball Net is lightweight, yet durable, high quality yet affordable. It's so easy to set up, youth groups and students can safely install the systems on their own in a matter of minutes. A one-of-a-kind tightening system simply won't allow the net to droop or sag, holding tension for as long as you decide you want play. Tournament-rated and ideal for competitive play, the Cobra Indoor Volleyball System comes with 3 official volleyball height settings: Men's (8′), women's (7′ 4″) and junior's (7′). This portable indoor volleyball net system comes with a heavy-duty carrying case for easy transport and storage.
Multi-Use: 3 Sports, 1 Net
Up for a game of beach tennis? Wanting to play some badminton? No problem. Every Cobra Indoor Volleyball System offers adjustable height settings, so you can play badminton, beach tennis or volleyball on the same system. It's perfect for rental shops, resorts, recreation facilities and anyone who wants the ability to change up their game on the fly.
Compete Inside & Outside With Just One System
When the sun is shining and you want to take your game outdoors, the Cobra Indoor Volleyball System instantly converts for wire-free play on sand or grass. Every component for outdoor play is included with your indoor volleyball system, and the patented Flex Pole Technology perfectly adapts to any outdoor playing area using specially engineered ground stakes for safe, wire-free play. No matter where you take your net, single-person set up is quick so you can get in the game faster.
Custom Orders Available
We specialize in helping customers find perfect, headache-free solutions to bringing the Cobra Indoor Volleyball Net to their facility. Our nets can be customized for unique floor configurations, multi-court systems and even shared center pole courts. Bring us your specs – and your toughest challenges. We haven't been stumped yet! Contact Us for a Custom Order.
What's Included:
2 Adjustable High-Strength Poles (ocean blue)
Installation Kit
Antennas
Pole Pads
Regulation Net
Stretch Cords
Guide Plate & Protector Cap (for driving stakes)
Washers
Ground Anchor Stakes
Boundary Lines
Heavy Duty Carrying Bag
Instruction Sheet & CD
Set Up Instructions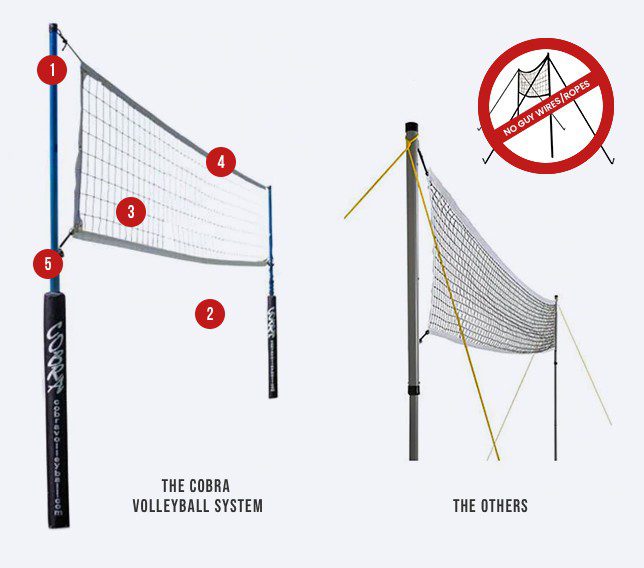 Designed to set up quickly, and last a lifetime.
No Guy Wires/Ropes
Fast One Person Set Up
Superior Net Play
Stays Tight All Game
Versatile – Play 5 Different Games