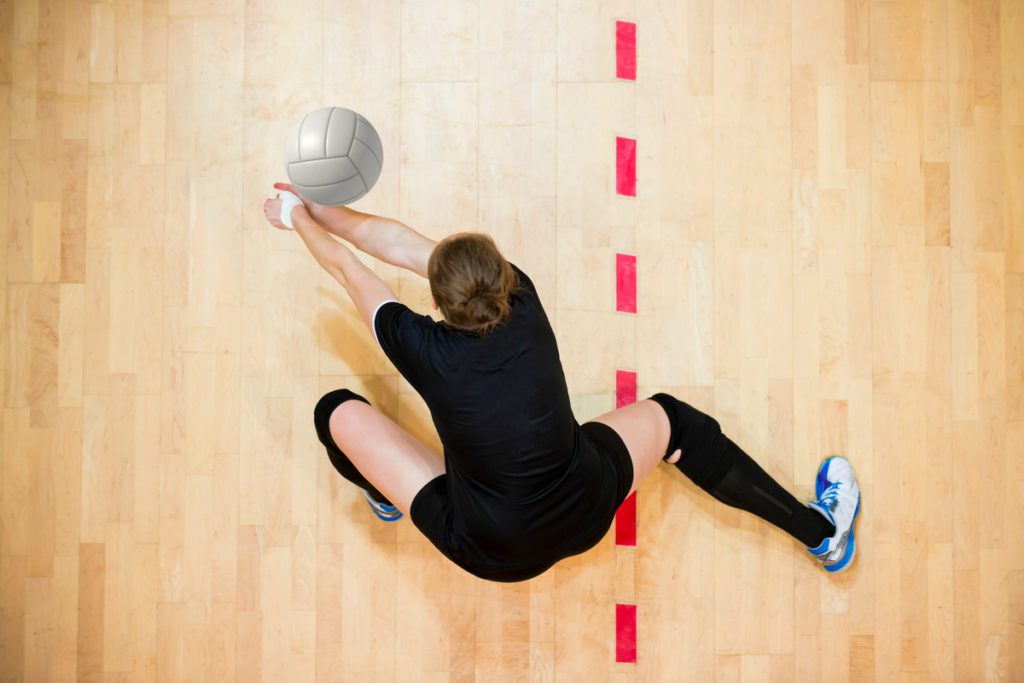 Volleyball is an extremely popular sport, and many people worldwide are in volleyball matches right this second. Whether you're playing volleyball in a pool, on a beach, or in a school gymnasium, you can't deny that it's a sport filled with fun and excitement. 
If you've played indoor volleyball, you've probably spent time analyzing the different rules and regulations to try and maximize the enjoyment of the games you've played. But have you ever considered how to optimize your games based on your indoor volleyball flooring? A few tips can help energize your future volleyball matches and even show you some advantages you may have never noticed.
How Indoor Volleyball Floors Affect The Game
Indoor volleyball courts are much more expansive and thus have more room for different rules and additional players. There are six players on either side of the net, and it can get a bit confusing with so many quick movements and rotations. You can probably imagine that there are a few slip-ups and falls, and landing on an indoor floor is very different from a sandy beach. Fortunately for players, indoor volleyball has a few different types of floors that offer various benefits for players. 
How Multipurpose Indoor Facilities Floors Affect The Game
It's common to find yourself in an indoor sports facility playing on hardwood floors that aren't built for volleyball games. It's difficult to go all out on these floors as there is an increased risk of burns and abrasions, in addition to the lack of grip. Consider wearing shoes with stronger grips and being more conservative with positioning throughout the game to avoid slips. 
Indoor facilities are now built with much better flooring to protect players, but always be mindful that a multipurpose floor won't always be optimized for volleyball games. Get a feel for how you react to the floor beforehand to plan out how you'll adjust your performance.
Permanent Floors
Volleyball players are more likely to play on a permanent floor, whether in a gym, school, or recreational facility. Permanent floors are more durable when playing volleyball due to their underlying composition and are built with the athletes in mind. Performance is excellent regardless of if you're serving or spiking the ball, and you should expect maximum control of your movements while on the court.
PVC Floors
PVC floors are one of the most common types of flooring and are one of the best types to optimize performance. When a player falls or jumps, a PVC floor minimizes the friction, which reduces the likelihood of floor burns. When playing, feel free to give a bit more energy hitting the ball and diving to the floor, as they're designed with more give to transfer power back to you. 
Vulcanized Rubber Floors
These floor types are highly durable, easy to install, and even eco-friendly. Athletes playing on either side of the court have additional bounce from the natural properties of rubber, so volleyball games may be a bit more engaging. Players serving the ball can get a lot more power and control, and you might be able to guard the boundary lines a bit more closely due to the grip rubber floors allow when chasing the ball.
Indoor Volleyball Games Are Even Better With Cobra Net Systems
Optimizing your volleyball games doesn't just stop at the floor you're playing on. Consider indoor volleyball nets from Cobra Net Systems to really improve your game performance. Our high-quality nets are perfect for indoor, outdoor, and pool volleyball matches and are designed to last for as long as you can get the ball over the net!
Contact us for more information and optimize those matches today!