Whether it's a professional volleyball or an exciting beach volleyball match, no one wants to miss out on the fun! Moreover, it has tons of heath benefits as well!
If you want to benefit from all that volleyball has to offer, get ready to set your volleyball court in your house. Unlike other sports, you don't need to go to a volleyball court to enjoy this sport, especially in this chilly weather.
If you're wondering about setting up a volleyball net, you're in the right place! Here's an easy guide for you.
Step 1: Remove the Floor Plates With a Wrench
When setting up an indoor volleyball net, you need a floor plate. Most volleyball nets are secured via a floor plate. After you've got a floor plate, locate the holes for each plate. You'll need an Allen wrench to pry the plate loose.
Once you have an Allen wrench available, insert it in the plate holes and twist it until the plate is loose.
Step 2: Place the Poles Into the Ground
After you've pried the plates loose, you need to secure the poles for the volleyball net. Place the poles upright into the holes. As soon as you lower the pole, it will be able to hold itself up without support. Do the same for the other pole as well.
If the poles fail to stay upright, check the holes for debris or dust and clear them out.
Step 3: Adjust the Volleyball Poles to the Required Height
Twist the bottom of the volleyball poles to adjust their height. You can always refer to the stand volleyball net regulation to adjust it accordingly.
Step 4: Attach the Net Rope to Both Poles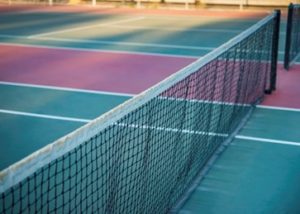 Tie each side of the volleyball net to the post hook on each side and knot it. Thread the rope through the winch strap hanging on each side of the pole. Tighten the winch to get the desired height and secure the net.
Step 5: Attach and Tighten the Net Straps
You'll notice two additional straps; secure these straps to the pole's hooks and tighten them. Moreover, if you find any spare ropes, secure them to avoid injuries.
Looking for Volleyball Nets? Shop Volleyball Nets Online
Setting up a volleyball net can be a challenging task. If you're looking for a simple volleyball net to set up your volleyball court with, we bring you the best—Cobra Net Systems.
At Cobra Net Systems, we offer easily portable volleyball net systems that can be set up singlehandedly and are safe with no dangerous wires or pegs that can cause injuries. Moreover, we offer a lifetime guarantee for all our products at our online store.
We also offer residential volleyball net systems, badminton net systems, commercial volleyball net systems, accessories, and more!
Visit Cobra Net Systems to shop for professional volleyball nets!