While everyone can agree that lounging in the pool on a warm summer day and floating along on an inflatable raft is an excellent way to burn some time, it can get boring quickly. Finding different activities to keep you, your friends and your family entertained poolside can prove challenging. However, you can find ways to keep everyone entertained and active this summer with the help of pool volleyball nets. The following infographic highlights some of the reasons why pool volleyball is widely considered one of the best summer activities: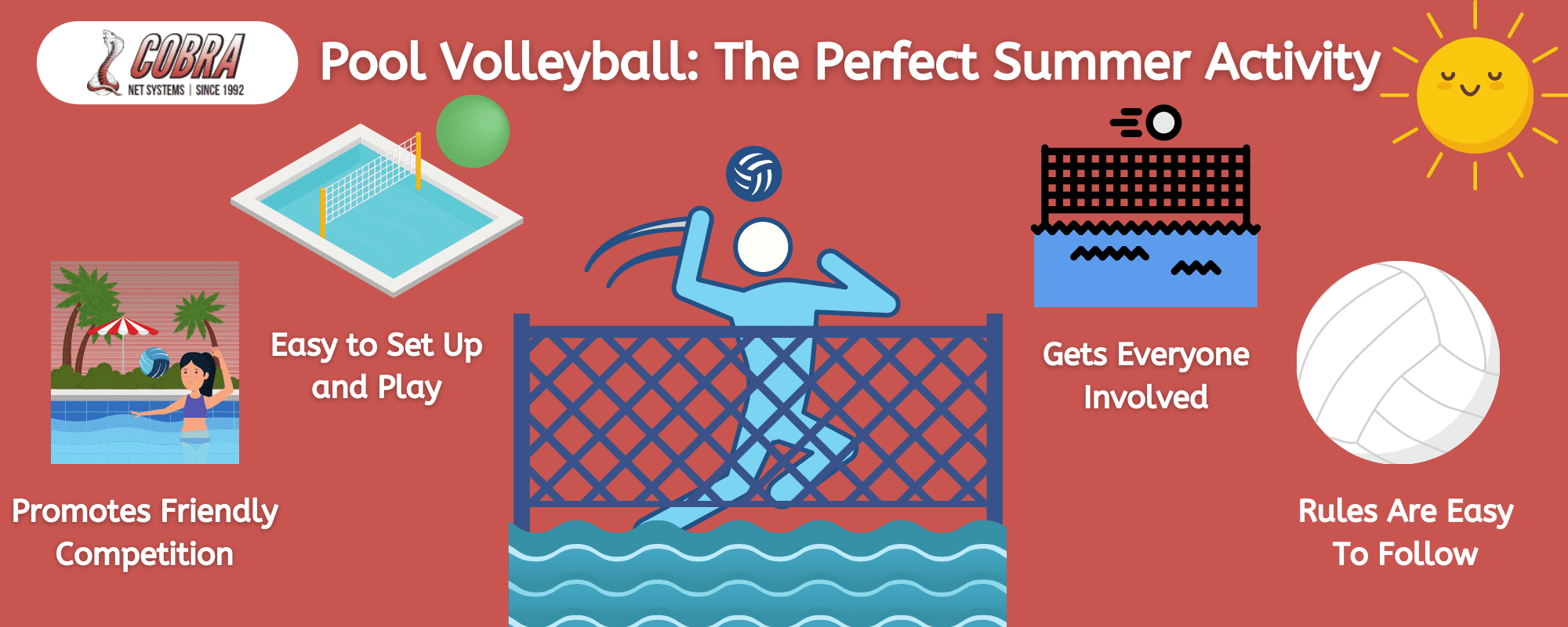 Quality Nets, Every Time
There are some things to consider for pool owners looking to add a pool volleyball to their outdoor activities, with the net itself being one of the first. When it comes to pool volleyball, the games can get competitive quickly. Splashes come from every direction, and the resulting water spray can cause nets of lesser quality to deteriorate more rapidly than you would prefer. That's why when you order pool volleyball sets online, you need to ensure that the quality of the net meets the rigors of continual pool use. 
Easy to Set Up and Compete
Pool activities that are easy to set up and don't require too much prep time are ideal. Spending time in the pool inherently means a time of rest and relaxation, so pool games with a complicated setup may not work with the general laid-back atmosphere. With an Anaconda Custom Pool Volleyball Net system, pool owners will not have to worry about an overly complicated process to get the friendly competition going. 
The Goldilocks Fit for Your Pool
How well is this net going to fit my pool? It's a question that pool owners always ask themselves when they decide which net works best for their situation. However, instead of relying on adjustable nets that are not guaranteed to be a perfect fit for your pool, you can choose to buy from Cobra Net Systems, where you won't have to worry about the fit!
Our team will take your pool's measurements that you provide and hand-make your volleyball to fit your precise dimensions. Having a properly sized pool volleyball net helps make your poolside activities as fun as possible without having to worry about whether or not it's too big or too small. 
Our team doesn't only specialize in pool volleyball nets. If you want a setup for solid ground, we offer the best outdoor volleyball courts you can find online. Contact us to learn more and place an order for your customized pool volleyball set today!