Any sport requires planning and strategies to win a game, and volleyball is no different. When you're on the volleyball court in the middle of the game with the perfect offensive and defensive strategies you can win most games. Here are some of the strategies you should use in your next game, organized by offensive and defensive.
Offensive Strategies
Front/Back Slide: A horizontal play is used to make the ball land either in front of or just behind the setter. It helps you play diagonal plays to make the play go wide. This strategy is also known as the (3) set.
A Set is a strategy in which you go on the offensive from the left side by targeting the back row. In the meantime, a pipe set attacks the back row from the middle and the D set attacks them from the right side.
Tab 6-0 Offense is a unique strategy of having two setters playing at the same time, but the back-row setter sets the play.
X series, as the name suggests, is a series of different combinations of play. However, the conventional X play is that the middle hitter does a quick one followed by the outside hitter coming in for 2 and then the setter either setting up someone to hit or hitting it themselves.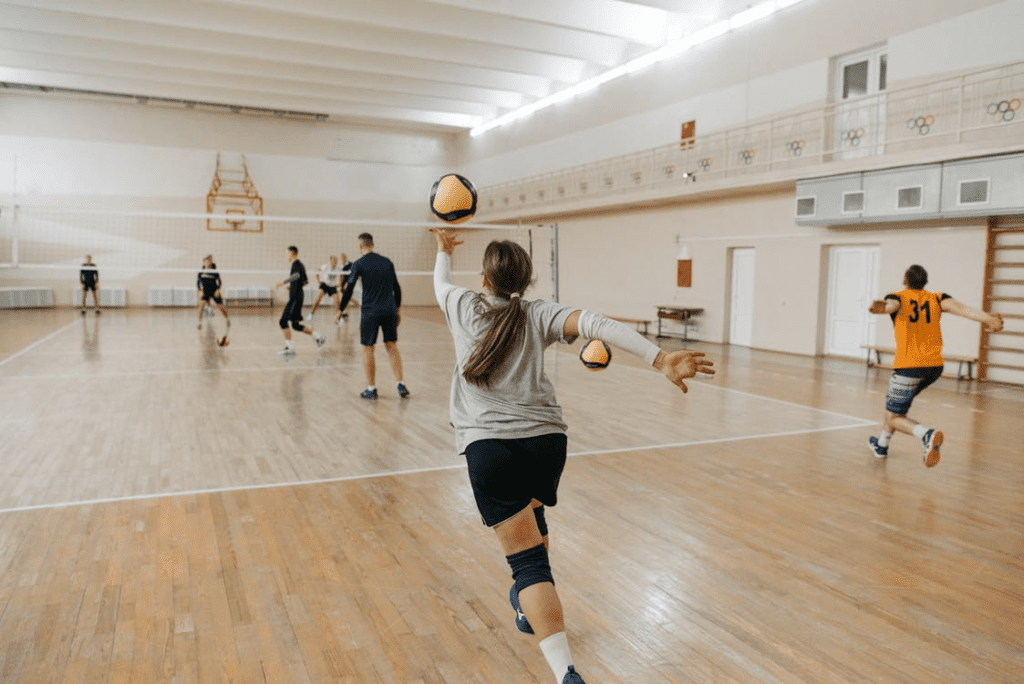 Defensive Strategies
Rotational Defense: This system means that all the players in the team will have a predefined rotational movement during the sets and according to the service of the opposition team. This defense system is also known as the counter-rotation system.
Middle Up Defense: This system involves one of your defenders being set up right behind the blocker at the 3-meter line. The defender is usually the setter but in certain scenarios, a middle back can also play as the defender. The other name for this defense system is also called the middle backup system.
These strategies are always useful in an indoor volleyball court to help the players get the real feel of the game. Especially since most national and state volleyball championships are played on indoor courts.
Set Up your Own Volleyball Court
If you're looking to win the next championship and want to be better prepared by having the right infrastructure, set up a volleyball court in your school or gym—we can help.
We're a volleyball net manufacturing company that provides volleyball net systems to commercial and residential buildings. We also have volleyball accessories and equipment that you can find on our online shop. For further details, you can email us or call us directly.